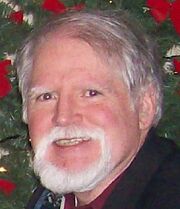 Some time ago I came upon this wiki under old management.  At the time, it was a site that borrowed heavily, if not completely imported, articles from Wikipedia.  Seeing that, I determined to make my own Bible-based wiki, but other things drew me aside.  A few years past and I got a message that things have changed.  The site was under new managment.  A merger has been requested of the two sites!
Allow me to introduce myself.  My user name is SouthWriter, for I am a writer living in the American south -- the state of South Carolina.  I am a 1980 graduate of probably the most conservative Christian university in the world.  That's right, I am that old.  I have studied the Bible all my adult life, and even have studied Hebrew and Greek!  In addition, my hobby is writing.
I am the father of four grown children, the oldest having gone on to glory.  Our first born son was studying to be a Christian Camp director when the Lord took him home.  Meanwhile, our daughter has earned two masters' degrees and teaches special needs children in North Carolina.  Our two sons are married and live near by, the older has given us two delightful grand sons.
I have been brought into this ministry as an administrator and collaborating editor/writer of Bible-centered articles that we hope will draw our readers deep into the Scriptures of what can rightfully be called "our holy religion."  Holy because it is set apart to God's glory, and Religion because it is our belief system, centered on Christ, upon which we "rely" (the root from which "reli-gion" grows).
Here at Bible Wiki [Biblicalpedia] we encourage readers to search the Scriptures -- the sixty-six timeless books that have been supernaturally directed all the way to the letters in the words -- and then let the world know what you find.  Hopefully, you can provide an article concerning a book, a place, a person, or even a teaching (aka "doctrine") you find.  As you read the existing articles, check the links.  You'll never know what insight you might be given by God in the pages of His Word.
In Christ,
SouthWriter, Administrator
Ad blocker interference detected!
Wikia is a free-to-use site that makes money from advertising. We have a modified experience for viewers using ad blockers

Wikia is not accessible if you've made further modifications. Remove the custom ad blocker rule(s) and the page will load as expected.